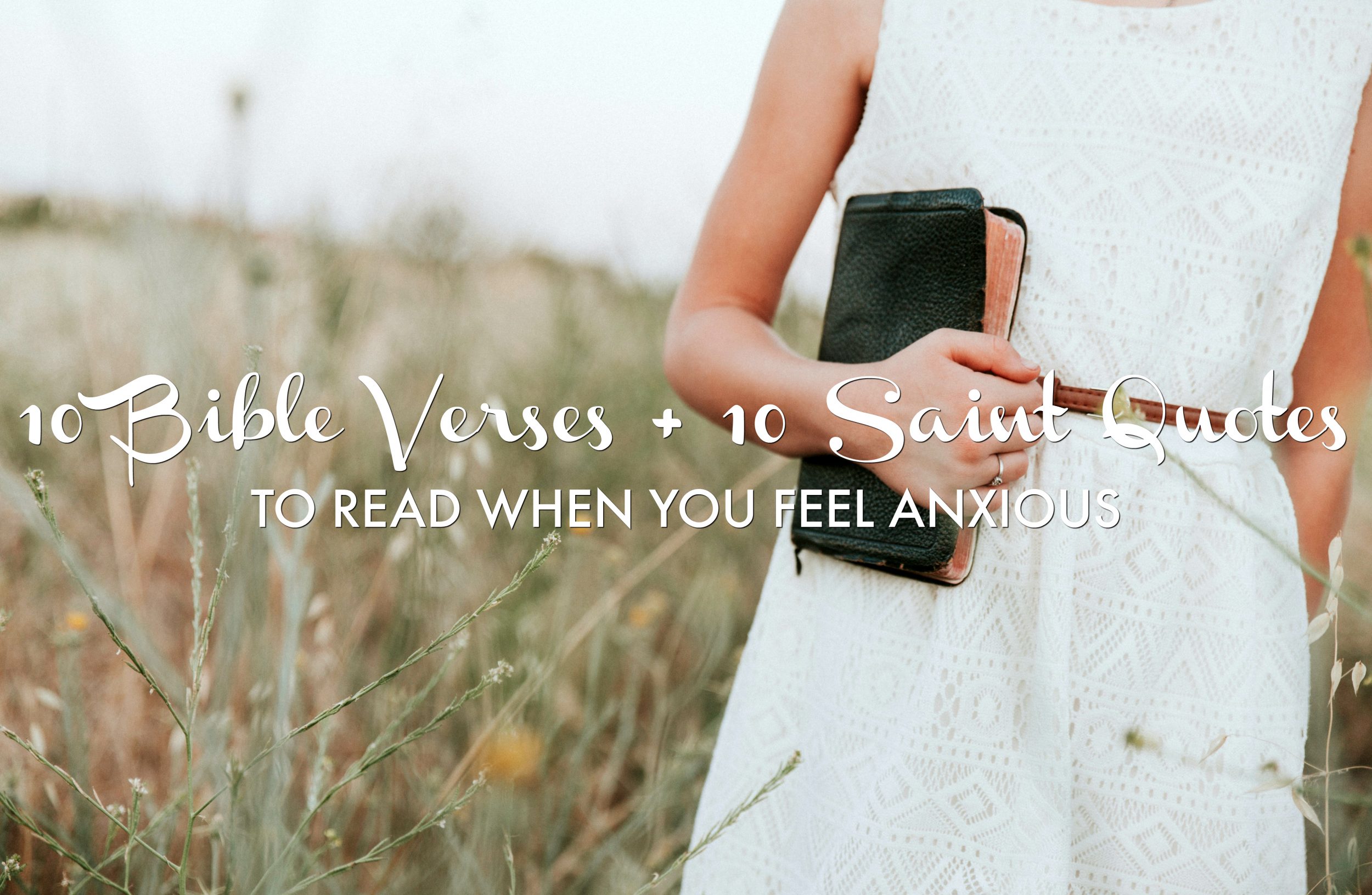 Anxiety is a common occurrence. Who, throughout their entire life, has never felt anxious? We all know what it feels like. In fact, studies suggest that Western societies are becoming more anxious in recent times—so much so that it's even been called the "Anxiety Epidemic". While the causes of this are almost definitely varied and deep, and would probably warrant a whole article in of itself, there are a few easy-to-memorize Bible verses and saint quotes that, if one meditates on daily, reads aloud, and falls back upon, will surely find a greater sense of stability and security moving forward into the rest of their lives. So, let's mature in Christ and stab anxiety in the gut by opening up the Word of God, which is the sword of the Spirit (cf. Ephesians 6:17), while also gleaning from the words of our holy saints—our holy swordbearers in this great fight of life. Here are 10 Bible verses & 10 saints quotes to read, proclaim aloud, and meditate on constantly when you feel anxious:
Bible Verses:
1. "For I know the plans I have for you, declares the LORD plans for welfare and not for evil, to give you a future and a hope." – Jeremiah 29:11

2. "And we know that for those who love God all things work together for good, for those who are called according to his purpose." – Romans 8:28

3. "Humble yourselves, therefore, under the mighty hand of God so that at the proper time he may exalt you, casting all your anxieties on him, because he cares for you." – 1 Peter 5:6-7

4. "Do not be anxious about anything, but in everything by prayer and supplication with thanksgiving let your requests be made known to God." – Philippians 4:6

5. "Cast your burden on the Lord, and he will sustain you; he will never permit the righteous to be moved." – Psalm 55:22

6. "Peace I leave with you; my peace I give to you. Not as the world gives do I give to you. Let not your hearts be troubled, neither let them be afraid." – John 14:27

7. "Fear not, for I am with you; be not dismayed, for I am your God; I will strengthen you, I will help you, I will uphold you with my righteous right hand." – Isaiah 41:10

8. "Trust in the Lord with all your heart, and do not lean on your own understanding." – Proverbs 3:5

9. "Therefore I tell you, do not be anxious about your life, what you will eat or what you will drink, nor about your body, what you will put on. Is not life more than food, and the body more than clothing? Look at the birds of the air: they neither sow nor reap nor gather into barns, and yet your heavenly Father feeds them. Are you not of more value than they? And which of you by being anxious can add a single hour to his span of life?" – Matthew 6:25-27

10. "I have said these things to you, that in me you may have peace. In the world you will have tribulation. But take heart; I have overcome the world." – John 16:33

Saint Quotes:
1. "If certain thoughts bother you, it is the devil who causes you to worry, and not God, Who, being the spirit of peace, grants you tranquility." – St. Padre Pio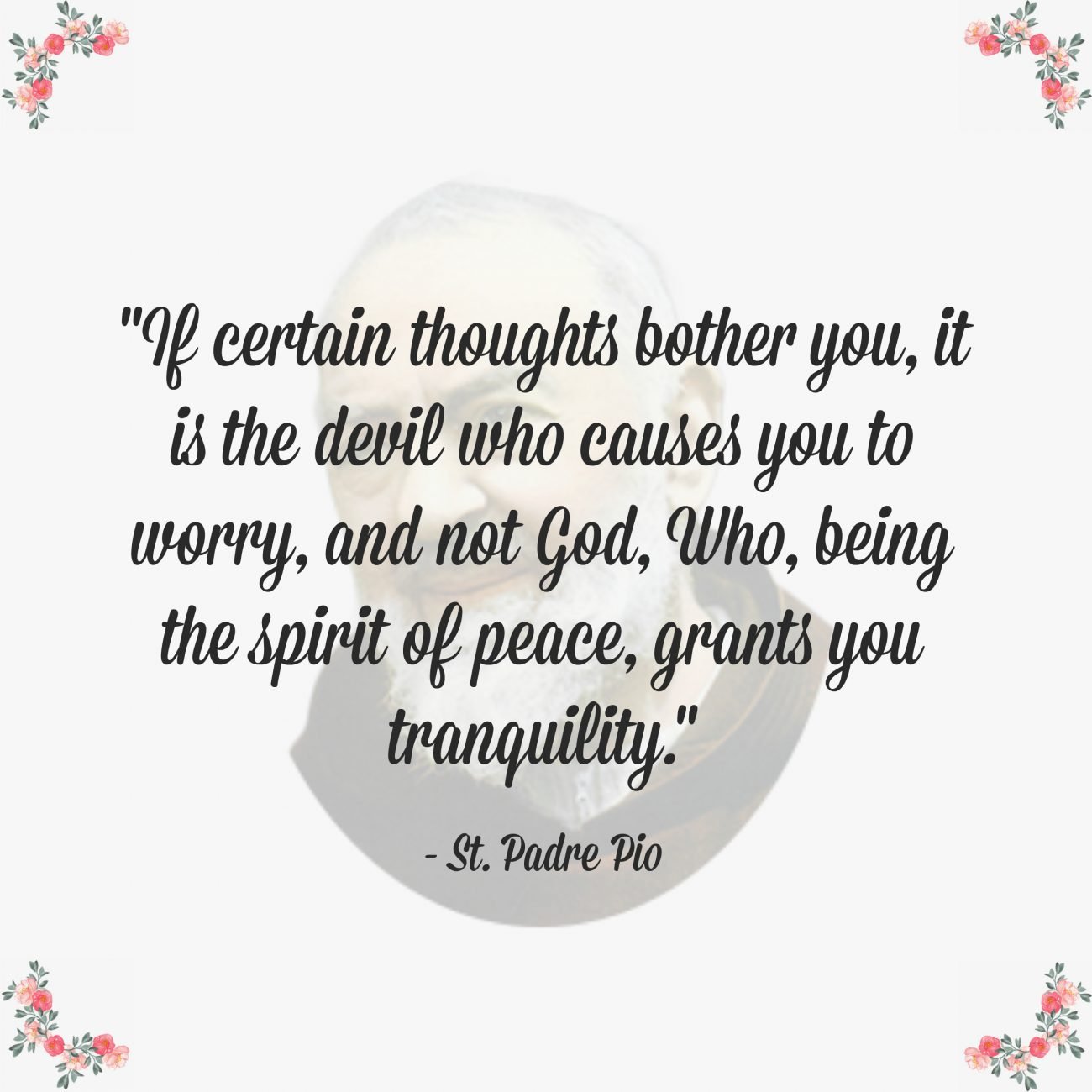 2. "Do not have any anxiety about the future. Leave everything in God's hands for he will take care of you." – St. John the Baptist de La Salle

3. "Go forth in peace, for you have followed the good road. Go forth without fear, for he who created you has made you holy, has always protected you, and loves you as a mother. Blessed be you, my God, for having created me." – St. Clare of Assisi

4. "Pray, hope, and don't worry. Worry is useless. God is merciful and will hear your prayer." – St. Padre Pio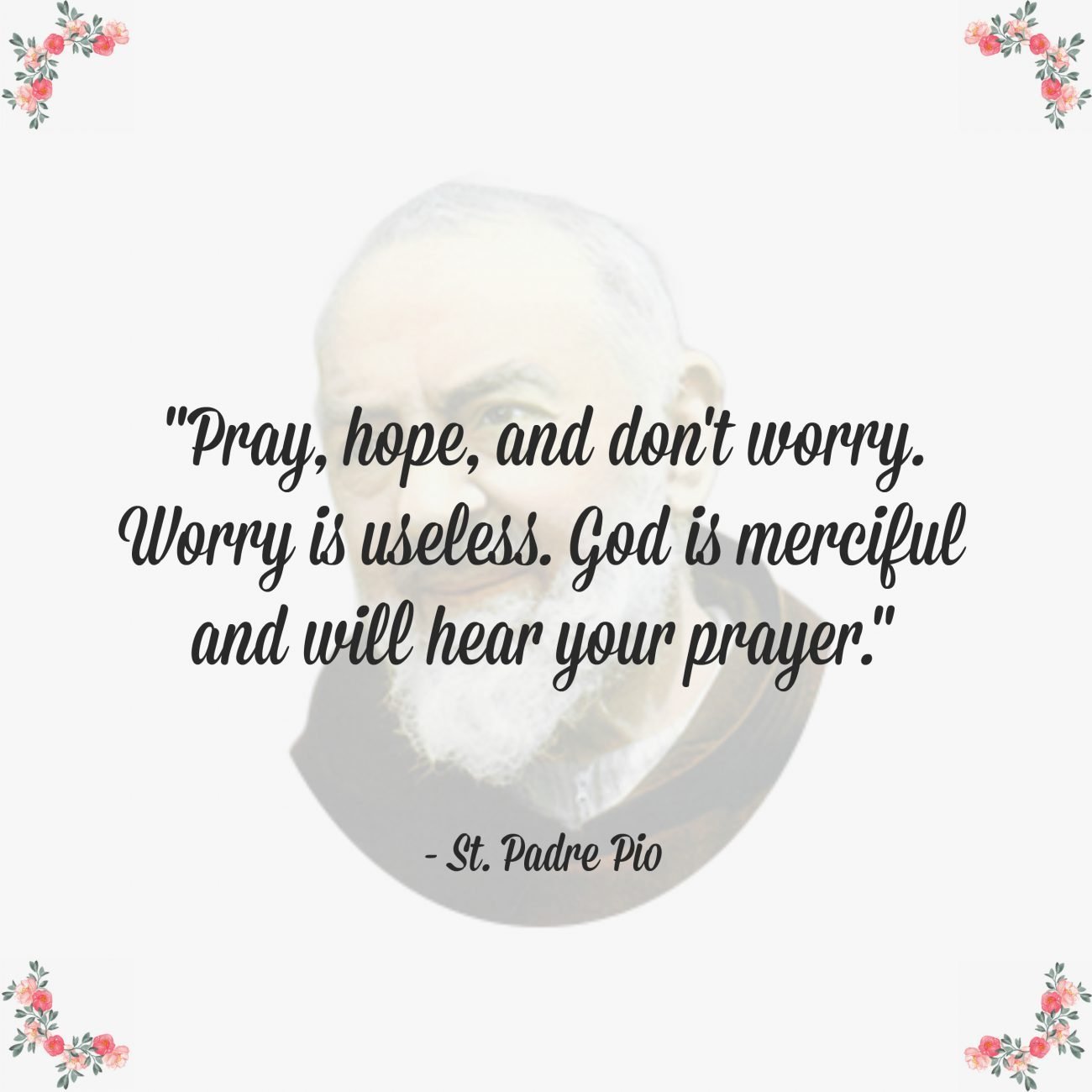 5. "Lay all your cares about the future trustingly in God's hands, and let yourself be guided by the Lord just like a little child…" – St. Edith Stein

6. "The greatest obstacles to holiness are discouragement and an exaggerated anxiety…" – St. Faustina

Ps. But don't let that make you more anxious in return! Realise that it means you do not have to live with anxiety and that it is possible to shed it off.
7. "Let nothing disturb you, nothing cause you fear. All things pass; God is unchanging. Patience obtains all. Whoever has God needs nothing else; God alone suffices." – St. Teresa of Avila
8. "Stop listening to your fears. God is your guide and your Father, Teacher, and Spouse. Abandon yourself into the divine bosom of His most holy good pleasure. Keep up your spiritual exercises and be faithful in prayer." – St. Paul of the Cross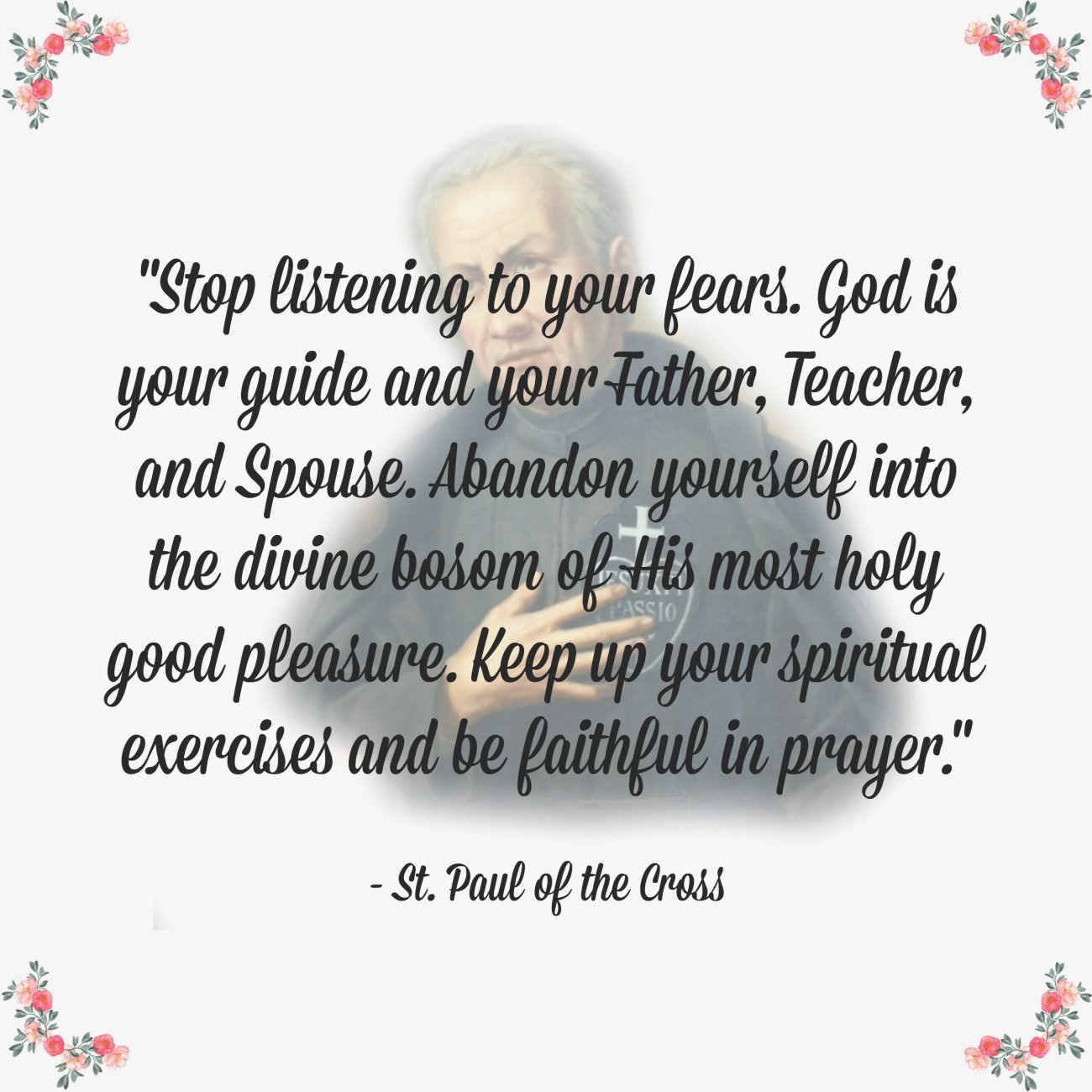 9. "Anxiety is the greatest evil that can befall the soul—sin only excepted…When our heart is troubled and disturbed within itself, it loses the strength necessary to maintain the virtues that it had acquired. At the same time, it loses the means to resist the temptations of the enemy, who then uses his utmost efforts to fish, as they say, in troubled waters." – St. Francis de Sales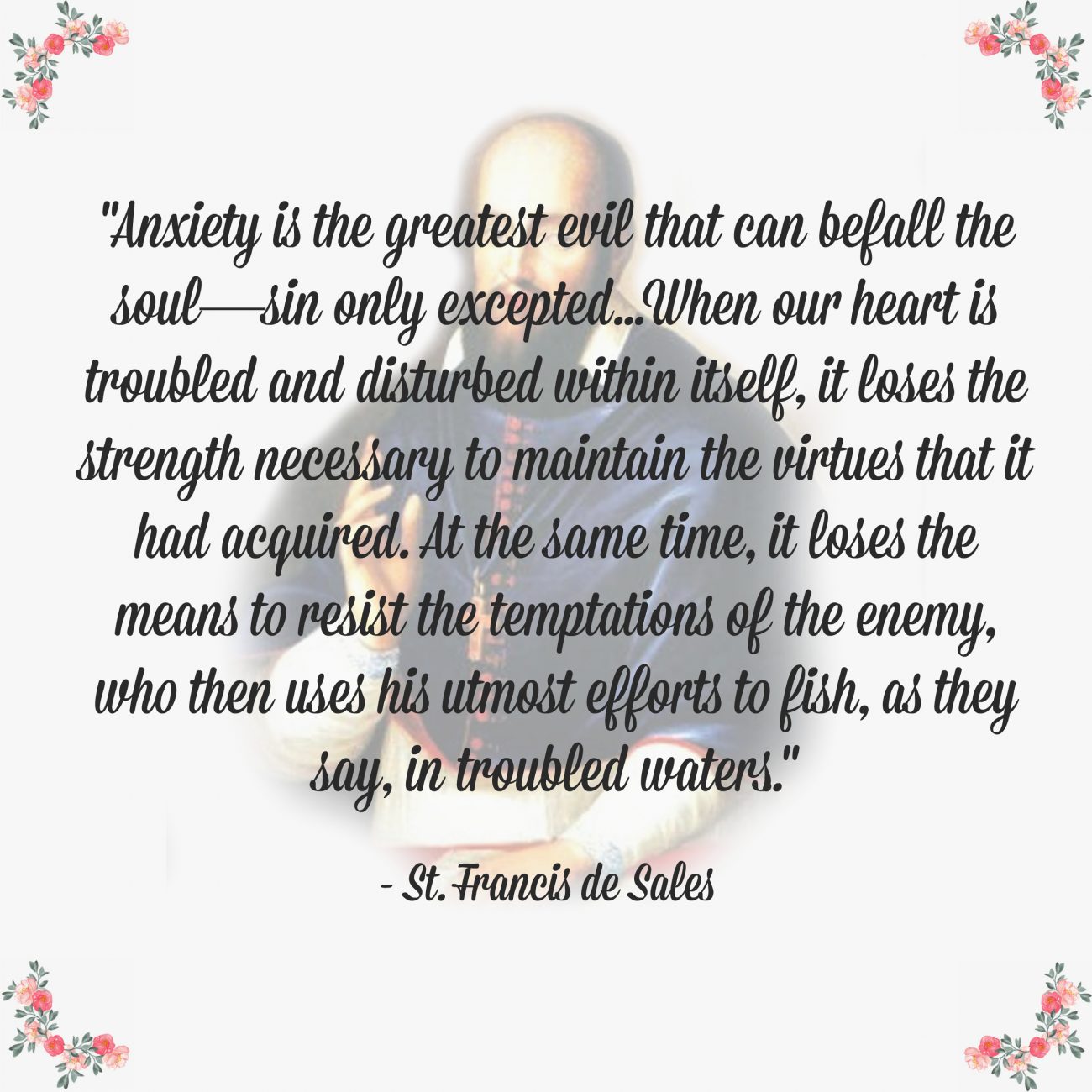 10. "And of what should we be afraid? Our captain on this battlefield is Christ Jesus. We have discovered what we have to do. Christ has bound our enemies for us and weakened them that they cannot overcome us unless we so choose to let them. So we must fight courageously and mark ourselves with the sign of the most Holy Cross." – St. Catherine of Sienna